Take the Most Accurate Enneagram Test Available
"Greetings, Friend!"
👋
The Enneagram is a powerful tool for understanding your personality and why you do what you do.
The first step is to learn your Enneagram type. Over 5 million people have learned their Enneagram types on this website.
We offer two tests that help you discover your Enneagram type, including a free one. 10,000+ people donated to make these tests a reality.
Make your choice below.👇
Choose wisely. 😉
For Life,
Marshall Æon ⚡
Two Tests Available.
Choose Your Own Adventure. 🚀
The Full SEED
For the fastest, most accurate results.
$10
Receive your scores for all 9 types.
We figure everything out for you:
✅ Your Core Type
✅ Your Wing
✅ Your Tri-Type
Comes with free email support.
Volume discounts available.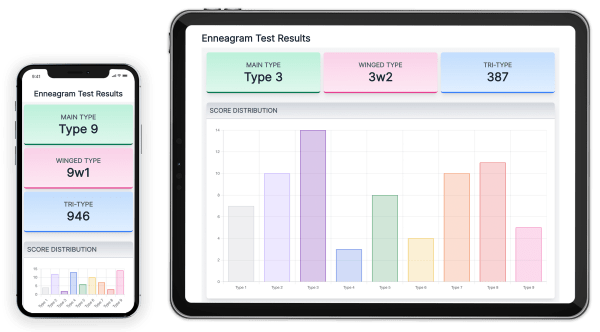 The Lite SEED
Costs you nothing–but you do the hard work.
Free
Receive your top 3 highest scoring types.
You have to figure everything out yourself:
❌ Your Core Type
❌ Your Wing
❌ Your Tri-Type
About this Test:
We wrote over 400 questions and tested them with over 100 people. We chose the most accurate questions to put in the Full SEED. We put the next most accurate questions in this test, the Lite SEED.
What People Are Saying About This Enneagram Test
The Full SEED was the best Enneagram test I have encountered so far, and I tried them all–multiple times. The questions were clear. The answers to the questions came to mind easily. I had no expectations, but the test delivered: the results corresponded exactly to what I had discovered about myself after many years of intensive study of the Enneagram and much introspection. Great tool really!

François BL

Enneagram Enthusiast
The Full SEED is definitely the best, most accurate test I've taken. It discovered my tri-type when no other test could.

Mary Lydia West

Enneagram Coach